---
What's in-store for the real estate market in 2016?
Here's the executive summary: Rental demand is exceptionally strong. The share of all U.S. households that rent their primary residence rose by 4 percent nationwide over the past decade, according to Harvard's Joint Center for Housing Studies. This trend is reflected in all but the oldest age groups, with the largest increase coming from tenants ages 35-39.
"Renter household growth [has] continued at a torrid pace – rising at double the rate of recent decades," the report states.
What types of housing are tenants searching for? What new interests are entering the market?
For the answers, let's take a look at five real estate trends in 2016.
#1: Apartments
The current housing market has created an ideal environment for investors who want to create a recurring cash flow stream through leasing apartments.
The popularity of urban living contributes to increased demand for apartment living. Urban areas are growing faster than the rest of the nation, according to the U.S. Census Bureau.
From 2000 to 2010, the urban population grew by 12.1 percent, outpacing the overall U.S. growth rate of 9.7 percent. The Bureau defines "urban" as "densely developed residential, commercial and nonresidential areas," a broad definition that includes both cities and adjoining suburbs.
But a closer look within those cities finds that many residents desire to live in multifamily buildings located near shopping, dining, retail and offices. According to a Nielsen report, Millennials in particular (who represent 24 percent of the population) have a particular preference for living in mixed-use communities.
"[Millennials are] transitioning from the white picket fence in the suburbs to the historic brownstone stoop in the heart of the city," Nielsen reports.
That's one reason why many properties located in or close to city centers are rising in both value and popularity.
#2: Suburban Single-Family Residential
That being said, not everyone is willing to put up with high prices close to city centers. Additionally, many love the space and convenience of suburban living, in which tenants can enjoy a yard, garage, basement, and added privacy.
Furthermore, many suburban areas are more affordable than their city-center counterparts, particularly on a per-square-foot basis.
People frustrated with the difficulty in finding affordable housing in high-priced urban centers like New York City, Los Angeles, Portland, and San Francisco are willing to look for housing in wider search radius outside of the city.
#3: Influx of Baby Boomers and Millennials
Demand for multifamily living is strong. The housing market is being flooded with demand from both sides of the generation spectrum: Millennials (currently age 18-36), who are establishing their adult lives, and Baby Boomers (currently age 49-67), many of whom are looking to downsize as their Millennial children leave the nest.
There are approximately 77 million Millennials in the U.S. and roughly an equal number of Baby Boomers, according to Nielsen.
Many Baby Boomers choose to rent for many reasons, including convenience, flexibility, a "test-drive" at a downsized home, and to preserve the ability to deploy their cash into other investments. The proportion of people ages 50 to 75 who rent their homes increased from 2004 to 2013, according to Harvard's Joint Center for Housing Studies.
In booming markets job growth and inward migration is driving multifamily demand.  People moving to a new city and/or just getting a new job are more likely to rent than buy, at least initially.
#4: Former Industrial Spaces
Don't be afraid to think outside the box of traditional real estate options. One growing trend, particularly in urban core markets, is to convert industrial and warehouse complexes into mixed-use housing and retail space.
One of the most well-known examples of this strategy is Atlanta's recently opened Ponce City Market, a former shipping and distribution facility which sat vacant and abandoned for several years. The investors who purchased this building converted it into a Class A mixed-use 2,100,000-square-foot development, combining apartments, offices, and retail spaces.
Many investors are purchasing units above storefronts, converting old shipping warehouses into upscale apartments, or converting old office spaces into downtown condominiums.
Many of these spaces are inexpensive, and located in improving neighborhoods with growth potential.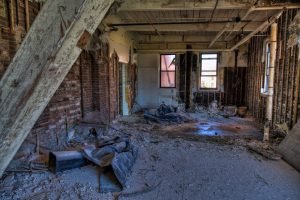 #5: Renovated Units
Renovating and repositioning older properties is a growing trend as well. Many investors are focusing on the strategy of buying Class B & C buildings in Class A & B neighborhoods, and then improving those properties into Class B or Class A units.
Renovating an existing property is less risky than breaking ground on new construction. The property produces income from the occupied units while the renovation is underway, which in many cases will allow for cash flow from the outset.
Tenants may be willing to compromise on square footage, but that doesn't mean they're necessarily willing to compromise on quality. Many tenants are looking for updated units featuring stainless steel appliances, granite countertops and nice amenities. The supply for Class B residences can't keep up with demand because Class B properties are rarely constructed.  Most new construction is Class A, which has created a steep rent gap between Class A and B properties.  Upgrading Class C properties to Class B+ has significant upside because rents can enter into the gap between Class B and Class A.
The Bottom Line
Investors are continuing to enjoy many opportunities in a wide variety of niches, and the market features strong demand from well-qualified tenants.
2016 appears to be a strong year for real estate investors, regardless of whether their investing strategy centers around single-family homes in the suburbs, multifamily dwellings close to the city center, or renovating apartments and townhouses.